Opus Africa: A collection of African Style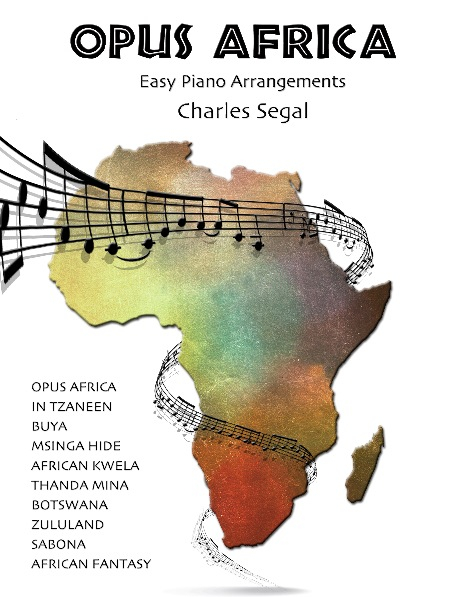 Charles Segal is a one-in-a-million musician – a gifted performer, composer and teacher in many genres. He spent most of his life in South Africa, where his mother, Riva, a talented mandolin-player, introduced him to music. As a child in the northern province of the Transvaal, Charles became fascinated by the African drumbeats of the indigenous people living on and around his family farm and African rhythm became part of his everyday life.
Charles trained in classical piano performance and teaching, but his heart was captured by American Jazz music and he became an accomplished jazz pianist with a talent for improvisation. His songs were hits in Africa, the USA, and Europe, but his love for African music never left him. He worked with the tribal people of Zululand, Lesotho and Mozambique, as well as the Xhosas of the Cape Province to record their traditional songs on an album titled "Songs of Africa".
Charles Segal's creative talents are evident in his over 1,000 compositions, many of which have an African flavor. He was the first pianist to record African style music for piano and orchestra. His hits include "Botswana", "Kwela Kwela" and "African Fantasy". His music has become part of the traditional culture of South Africa and has won many awards,
including the SARI Award (USA Grammy) - the people's choice for Song of the Year.
A household name in South Africa, Charles was a founding member of the South African Music
Rights Organization
Song Titles

1. Opus Africa
2. In Tzaneen
3. Buya
4. Msinga Hide
5. African Kwela
6. Thanda Mina
7. Botswana
8. Zululand
9. Sabona
10. African Fantasy


(SAMRO) and the Drama and Literary Rights Organization (DALRO). When he wasn't hosting his own TV show, "The Music of Charles Segal" or playing on radio programs such as "Charles Segal Piano Playtime", "Sundown Serenade", and "SA Showtime" Charles was running Charles Segal Music School – one of the largest of its kind in the country.

Charles, now a USA resident, is featured on over 500 albums. A popular performer at Hollywood

events in celebration of awards shows, like the Oscars, Globes, and MTV Awards, Charles has

worked with many great musicians, like Bill Evans, Bud Powell, Cy Coleman, Dan Hill and

Arthur Prysock, and he even composes and plays "loops" for Hip-Hop artists.

"Opus Africa" is a tribute to Charles Segal's melding of the sounds of his youth with the more

sophisticated experience of his extensive musical education.
You may also like