Sampling of Original Songs vol.1-4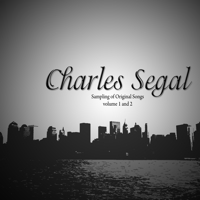 This is a 4 volume album featuring 72 of Charles' most loved songs.

For the first time Charles Segal's original songs are available for purchase from iTunes. More albums available soon.
Click HERE to visit the Charles Segal iTunes store!
Segal Publications
Segal Publications has a catalog of over 2,000 songs, including award winning hits. We also publish Sheet Music Albums and Music Tutor Books.
We produce quality CDs in a variety of genres, including Pop, Jazz, Relaxing Music, Classical, Country, Holiday, Children's, Retro, New Age, Piano and Orchestra, World Music, Traditional, Showtunes.
We are a resource for businesses to use quality music as a marketing tool to enhance their image. Businesses choose from a wide variety of original music to make a compilation CD with a customized cover. Businesses sell their CDs to the public, or distribute them as promotional gifts for their customers.
We are also a resource for producers of films, TV and stage shows or commercials who need songs and incidental music for background or to feature in their productions.
With a collection of over 10 original full length children's musicals we have also been a resource for producers and teachers of Theater.